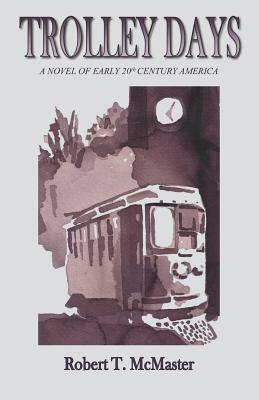 Trolley Days
is the story of an unlikely friendship between two boys growing up in Holyoke, Massachusetts, in the nineteen-teens. Jack Bernard is the son of a mill worker who emigrated from Canada, Tom Wellington the son of the mill owner. Jack is shy and socially a bit awkward, Tom self-assured and smooth-talking. But for all their differences, the two boys have much in common. They love fishing, sports, and all manner of youthful tomfoolery. Each has suffered the loss of a sibling, tragedies that have affected both families deeply.
In the opening chapter a blizzard is approaching as Jack boards a train for the long trip to Boston. He has received a cryptic letter informing him that Tom is in a Boston jail. Despite a recent falling-out between the two, Jack still considers Tom his best friend, and he refuses to allow a snowstorm to prevent him from going to Tom's aid. Soon Jack will be plunged into a mystery that calls on all his courage and determination to solve, even as his friend's life hangs in the balance. To save his friend, Jack will need the assistance of Tom's sister, Anne, but that will require Jack and Anne to reconcile their fractured relationship.
Does friendship have its limits? Can bonds of trust, once broken, be repaired? Can we learn from life's tragedies and move on, or must we carry them like lead weights on our hearts forever? In
Trolley Days
it seems it is the young who bear the heaviest of life's burdens and must marshal the strength to free themselves and their parents.
---
Book 2
THE DYEING ROOM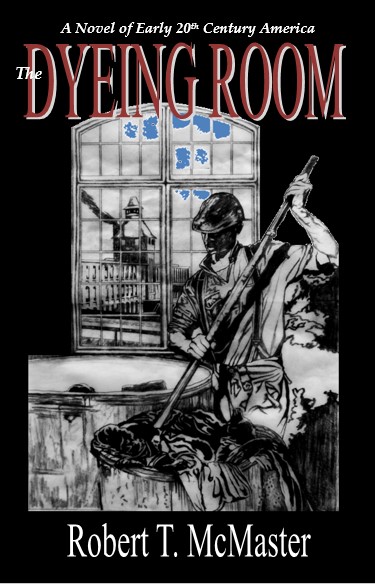 Spring - 1917. War is raging in Europe and America has just cast its lot against the German war machine. Back home, the nation is reeling with social strife: workers marching for their rights, immigrants demanding fair treatment, suffragettes clamoring for the vote. In Holyoke, Massachusetts, seventeen-year-old Jack Bernard has a new job at one of the city's largest textile mills, hoping to save money for college. Meanwhile, his friend, Tom Wellington, appears to have taken control of his demons and set himself on a new course. Soon the lives of both young men, their families and friends, will be torn asunder by forces and events far beyond their control.
The Dyeing Room,
Robert T. McMaster's second novel, is an absorbing blend of adventure, mystery, and romance populated with characters so life-like they seem to leap from the pages and materialize before our very eyes. Readers young and old will be captivated by this story from a century past, the world of our forebears, an era that, however distant, still speaks to us across the generations.
---
Book 3
NOAH'S RAVEN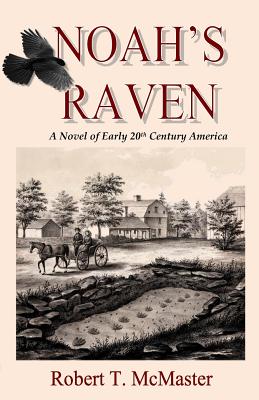 September, 1917. The nation has entered the Great War, the War to End All Wars. While young Americans by the hundreds of thousands march into battle in Europe, back home the nation's social fabric is torn asunder by patriotic fervor and xenophobia. When two German-American classmates are taunted in the schoolyard, 14-year-old Claire Bernard rushes to their defense. Her noble intentions soon plunge her into a dark world of international conspiracy where prejudice and suspicion blur distinctions between friend and foe, good and evil, where she could well become the next victim.
Noah's Raven,
a story from a century past that speaks to us across the generations.
---
Book 4
DARKEST BEFORE DAWN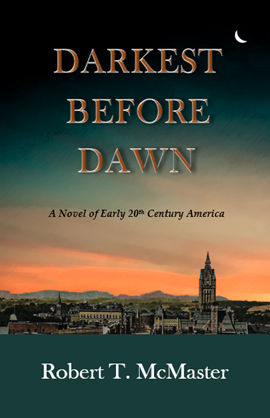 April 10, 1919. The war in Europe, the Great War, the War to End All Wars, is over—America and her allies have defeated the German forces. The
USS Mongolia
arrives in Boston carrying nearly 5,000 soldiers and sailors returning from France. Thousands are gathered on Commonwealth Pier to welcome the returning doughboys, dancing, waving flags, singing, and celebrating the safe return of their loved ones.
But war changes things. It changes nations, and it changes people, both those who fought and those who waited anxiously back home. One soldier among the thousands arriving in Boston on this day is not joining in the celebrations. He is a young man from Holyoke, Massachusetts. He enlisted out of a sense of duty to his nation, little knowing the pain, the hurt he would suffer. His wounds are not those of gunshots or mustard gas or influenza, they are wounds of the heart and the soul, and they are deep.
"I couldn't put it down," writes one reader of
Darkest Before Dawn.
Intrigued by the story's twists and turns, another reader says of the stunning conclusion, "I did not see that coming."
In
Darkest Before Dawn,
Book 4 of the Trolley Days Series, Massachusetts author Robert T. McMaster traces the lives of four young people growing up in a time of turmoil and wrenching change for their country, their hometown, and themselves.